Today, I am excited to share with you about some friends of ours who are really making a difference.
Your faith in God amazes me; it leads you to overcome obstacles, serve others, and make a difference in the Bay Area and the world.
So don't allow your hearts to grow dull or lose your enthusiasm, but follow the example of those who fully received what God has promised because of their strong faith and patient endurance.

Hebrews 6:12 TPT
When I think about my friends of over three decades, Greg and Kristi Bodzioch, one word comes to mind: enthusiasm! 
While many of us see our enthusiasm wane over time as this scripture points out, the Bodzioch family's passion for inclusion just seems to grow and become more contagious. They have been a beacon of hope and opportunity in their Sunnyvale community for years through their leadership in E-Sports. They have been and are a great example for myself and my family of what strong faith and patient endurance can do. In other words, their passion has infected us!
Just this past month, the Mayor and City Councilmembers of Sunnyvale awarded them with the 2020 Distinguished Resident of the Year Award which recognizes individuals who devote a significant amount of time, resources, or talent towards improving the community and making a lasting impact on the city.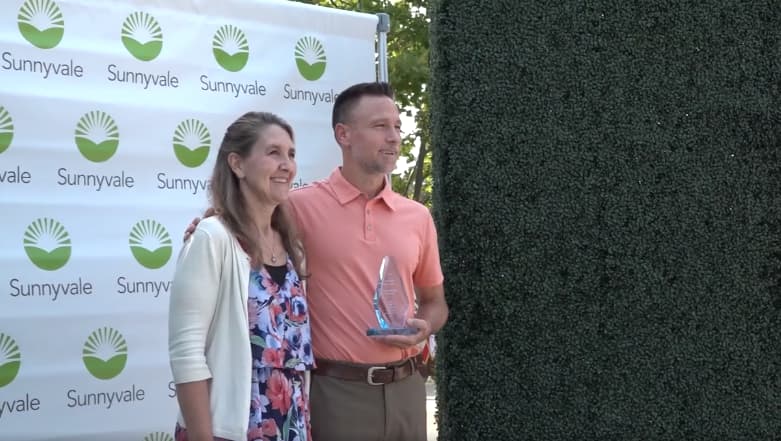 Inclusion is a lifestyle
The passion for inclusion is woven into the fabric of the Bodzioch DNA and all of those who are a part of E-Sports, or now the more recently expanded, E-Life family.
After E-Soccer started in Foster City, CA, Greg and Kristi wanted to help it expand and started the Sunnyvale E-Soccer program back in 2003. They could be seen as a family together on the fields every Saturday with both kids in strollers.
As their sons grew, both Brandon and Cameron graduated into coaching weekly at E-Hoops along with many other teens and campus students who are a part of the program. Now E-Soccer has grown and expanded its reach to become E-Life which includes not just sports like soccer, basketball, and martial arts, but also gardening, gaming, dance, and photography. E-Life has a simple mantra, inclusion is a lifestyle.
The Bodziochs along with all of those participating in E-Life are changing the attitudes and behaviors of the community ensuring that everyone has a chance to build meaningful relationships, be a part of a community and overcome the loneliness and isolation that can affect so many.
How can I change the world?
You know Jesus went through the land doing good for all and healing all who were suffering under the oppression of the evil one, for God was with Him.

Acts 10:38b Voice
My wife and I are so excited to be a part of the church here at the BACC, where many of you, like the Bodziochs, are finding new ways to change lives through non-traditional means. 
We want to be just like Jesus who as this scripture points out "went through life doing good for all and healing all". He did not do good just for those who would join his group but had a heart for all regardless of response or circumstance.
So, how can each of us change the world?  It's simple, enthusiasm – the enthusiasm to do good for all and to be passionate to change people's lives.